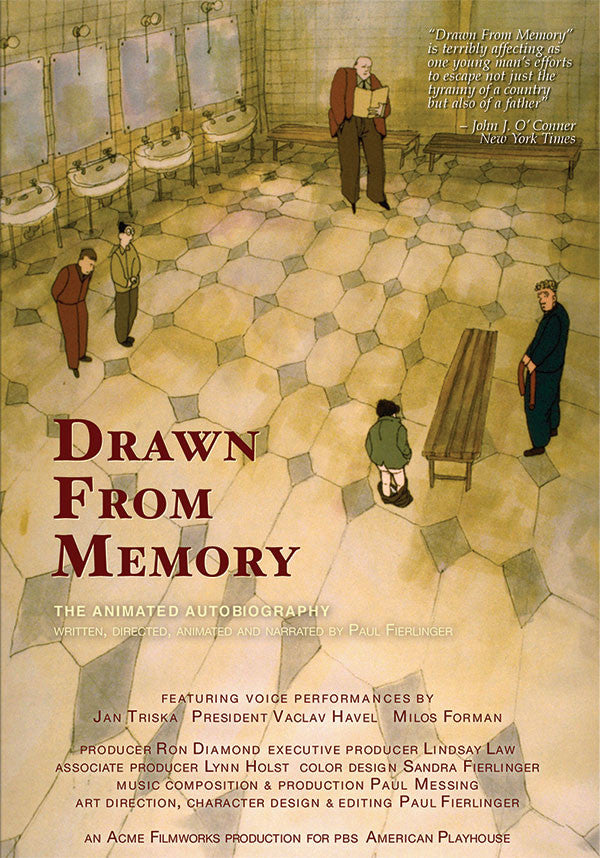 Drawn From Memory DVD
$34.95
with FREE DOMESTIC SHIPPING (via USPS Media Mail)
The Animated Autobiography of Paul Fierlinger.
Featured on PBS' American Playhouse.
Fierlinger concentrates his considerable talents as an animator to recount through fragmented memories, vivid recollections, and the occasional evocative photograph his life as the rebellious son of Jan Fierlinger, Czechoslovakian career politician.
At the outbreak of World-War II, Fierlinger and his family became war refugees in the United States, where the young Paul, bouncing between foster homes so that he did not disturb his politically involved parents, grew up an American boy.
After the war, his father was installed as a senior official in Soviet controlled Czechoslovakia, and Paul was plucked from the world he knew and dumped in the chilly reality of postwar Prague. As he grew older, his political sensibilities began to differ radically from his father.
Using traditional cel-animation with watercolor backgrounds and charcoal and pencil sketches to recreate a historical era, Fierlinger evokes what are clearly lasting images from his childhood. Drawn From Memory is at times a touching memoir and at others a sincere effort to deal with painful recollections, and it never fails to stimulate the senses with it's sheer artistry.
-Christian Gains, Sundance Film Festival
What the Critics Say:
"Drawn From Memory is an extaordinary reminiscence about an improbable but true life, rendered in pen-and-ink images as whimsical as those of James Thurber and words as piercing as those of Milan Kundera. The work, which could be called The Movie of Laughter and Forgiveness, uses the lighthearted medium of animation to heartbreaking effect."
- Carrie Rickey, The Philadelphia Inquirer
"Drawn From Memory is terribly affecting as one young man's efforts to escape not just the tyranny of a country but also of a father."
- John J. O'Conner, New York Times
"Drawn From Memory a finely affecting work of cartooning and other visual techniques (including use of charcoal sketches, watercolors, and family snapshots) by veteran animator Paul Fierlinger that serves as a telling autobiography of a life in flux."
- Miles Beller, The Hollywood Reporter"